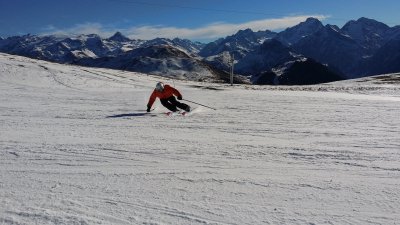 Sure, it's still just the beginning of the summer, but every serious ski enthusiast is already planning for next winter's skiing adventures, right? The number one best thing about the winter is snow and skiing/snowboarding, or possibly hiking through white forests... If you love the nature winter is a magical time because it looks as if you're walking through a mythical land, or a fairytale if you will.
The Alps
My favourite place to go skiing is the alps because there you get both snow activities at their best and some wilderness as well as decent night life (for whomever wants). It's expensive, sure, but it's worth it! I have been to both St. Anton, which is on the Suiss side, and in Val Thorens which is French. Of the two I prefer St. Anton which feels more genuine and less of a crazy Ibiza-like party mountain. The skiing is great also in Val Thorens, but the general feel is much nicer in St Anton.
Planning for the next trip
I am right now on the hunt for new ski gear, because the stuff I have is more than ten years old - it's really time for new skis and a new wear. It's exciting because this time of year you can make some really good catches online - all of last years collection is on sale and it's really fresch looking! 
My next trip will probably be to St. Anton again, I love that place!